You forward your calls to our toll-free or local number whenever you are unable to answer your phone. Examples may include lunch breaks, staff meetings, on weekends or statutory holidays, as a busy-line rollover, or simply 24 hours a day, 7 days a week. We are always here to answer your calls!
When someone calls your office number, which has been forwarded to us, the call falls on your customized account within our system: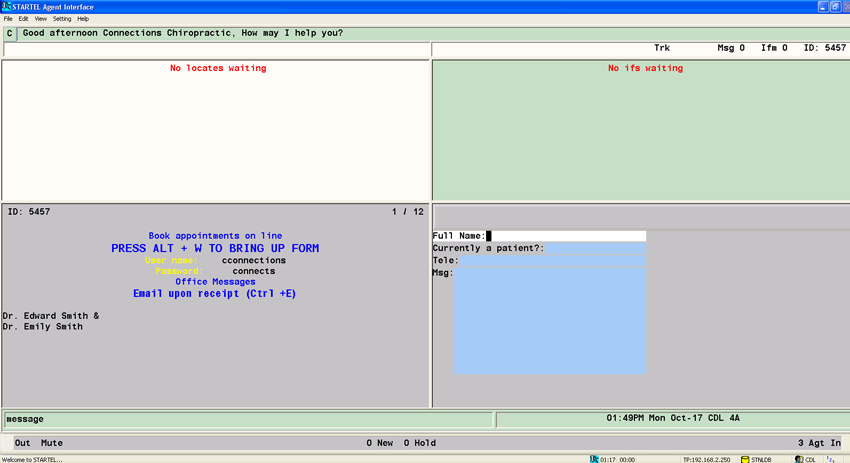 Everything, from how we answer your phone calls (the very top of the screen), to what information is given, to what actions are necessary on the agent's part, is all personalized to your office's needs (the bottom left pages of the screen – note that pages are unlimited in numbers). The more information provided, the better we are able to serve you.
The above image shows an example of a doctor's office that requires our agents to book appointments for them, in addition to taking basic office messages. The instructions on the bottom left of the screen clearly tell the agents what to. Should the agent need to book an appointment, they will command the web form to come up, where they would enter the username and password as given, and finally book the appointment. Should the agent simply be taking a message, they will fill out the message slip on the bottom right hand side of the screen, which prompts for the information that is required by you. In this case, the agent will ask the callers full name, whether or not they are a current patient, what their telephone number is and the message details. There is no limit to the construction abilities of message forms.
Messages can be phoned, emailed, paged (digitally, via alpha pager, or as a text message or SMS to a cell phone), or even faxed directly from the system.
Should you require more complicated scripting, or detailed reports in an Excel compatible format, we are able to program a full screen prompts to the agents in what's called an intelliform: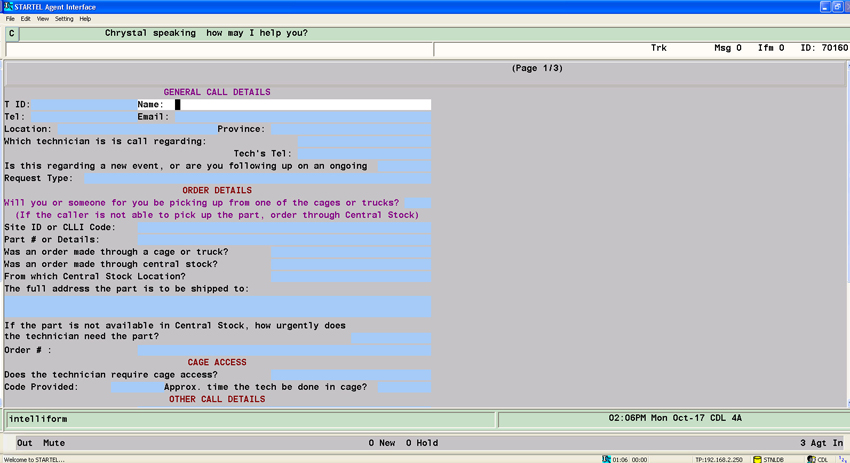 Intelliforms are great for order entry calls, reservation inquiries, or detailed call reporting purposes. They can be programmed to calculate order totals, inclusive of any applicable taxes, or automatically display information like city and province or state, based on postal or area code. There is no limit to the customization of message forms we're able to provide!
Our completely paperless, environmentally friendly use of the state of the art Startel messaging software, combined with the clever account programming, ensure that our agents are greeted with as much personalized information as possible the moment your phone number rings. Add to that our continual agent performance monitoring and our forever training & learning atmosphere and we are able to guarantee award winning, kind, courteous, professional, informative service to your callers every time your phone rings through to us!
For detailed information on how we can help you and how much charge for our services, Request a Quote here!
We look forward to working with you!